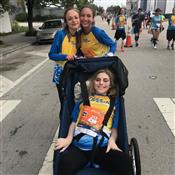 Edit in profile section
Something that makes the hardships worthwhile is the recognition of each mile. It takes strength to allow the fire inside the soul to burn brighter than the fire around us.
Racheli Herzfeld
One of my best friends once taught me that it doesn't matter what went wrong in the past as long as there is improvement that can overpower in the present, and that even though one can't choose or necessarily change a situation, you can choose how to respond to it.
I was a part of chai lifeline for eight years, and the experiences I had and relationships I formed are priceless.

I took the desire of coming to seminary, and made it a reality.

Two months before I left to Israel, I had fallen out of my scooter, and not more than a few hours later did my mom tell me that our chai lifeline case manager called to say that an anonymous donor wanted to get me a new electric wheelchair for Israel.

One that has the ability to climb stairs, which I had fantasized about getting for years, so that I could be able to avoid as much inaccessibility and be as independent as possible.

The chair cost $13,200.

If I could raise even a fraction of that to give back, it would make me so happy.

Because even though we earn a living by what we get, we make a life by what we give.

I will be participating in memory of my Tante Frida who passed away from cancer at age 65 and my friend Keren who passed away from cancer at age 12.